On my way of exploring Consumer Health Informatics, I got involved with a research group under supervision of Dr. Luis Fernandez-Luque at Qatar Research Computing Institute (QRCI) early 2017. This project was on the context of buildings personalized health tool to empower patients.  Particularly, the project aimed to enhance health education of mothers within an obesity intervention for their children.
Problem Statement
Obesity is one of the major health risk factors behind the rise of non-communicable conditions. Understanding the factors influencing obesity is very complex since there are many variables that can affect the health behaviors leading to it. In particular, childhood obesity is a growing epidemic, and with technological advancements, new tools can be used to monitor and analyze lifestyle factors leading to obesity, which in turn can help in timely health behavior modifications. Nowadays, multiple data sources can be used to study health behaviors, such as wearable sensors for physical activity and sleep, social media, mobile and health data.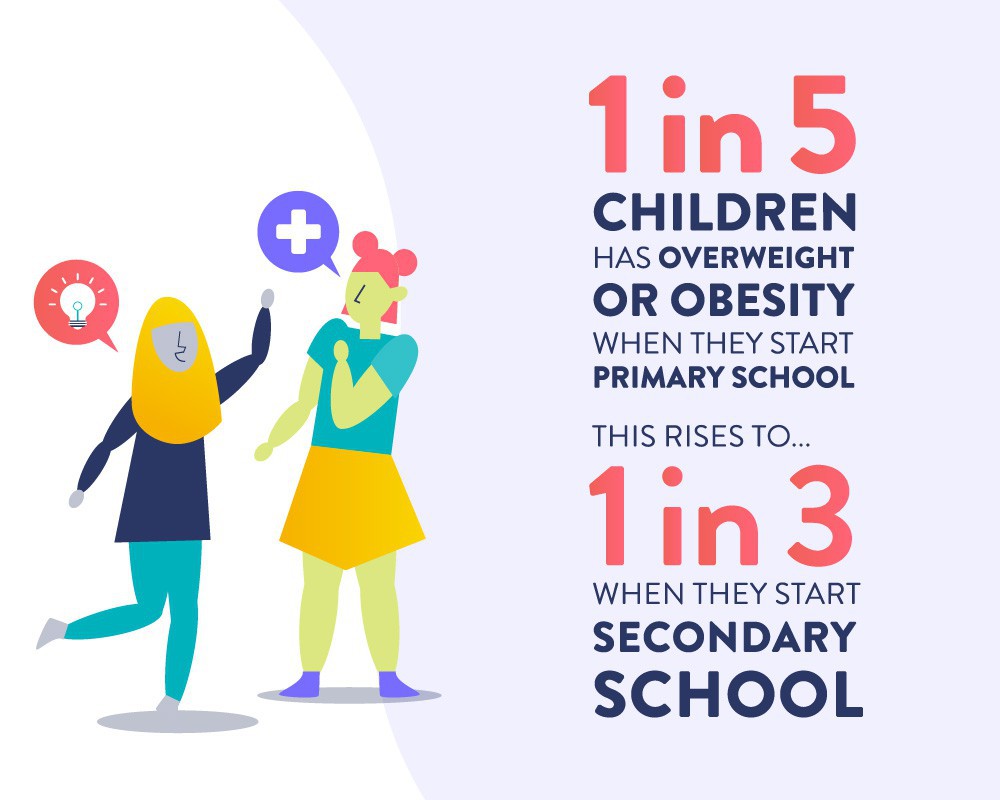 Objective
In this project, we developed a system which uses an off-the-shelf messaging app coupled with a recommender system to provide tailored health recommendations in Arabic and/or English to mothers with overweight children in Qatar. The goal was to keep the mothers motivated to actively work towards keeping their children healthy.
Methods
I defined a pool of motivational messages for the mothers associated to different topics and challenges regarding the nutrition and physical activity of their children with consultation with a nutritionist. The messages were created in English and Arabic language. A total of 24 keywords were defined. These keywords linked each message to features that define it (i.e. deals about vegetables, fats, religious quotes regarding healthy eating, healthy recipes, etc). A special set of 9 messages were specifically designed to be sent when users start the intervention. The answers to these messages define the initial user profile. Once an initial user profile is known, the user will start receiving messages on a weekly basis, one tailored message per week up to a maximum of 77 messages. Users can rate the messages based on their perceived usefulness. This feedback is stored in the user profile – user-keyword vector – so that the following messages that she receives contain keywords – message-keyword vector- that were included in previously rated messages. A total of 38 mothers, with children between 9 and 12 years old, joined the program to receive tailored messages across the entire summer based on their personal preferences. After each week, the system asked them whether they had completed the challenge, and their opinion about their difficulty, and usefulness.
Results
During the 4 months of the intervention, about 500 messages were sent to the participants. The participants had a total of 94 challenges included in the messages that they could promise to accomplish. Of these, 11 challenges were totally completed, 42 challenges were almost completed, and 7 challenges had been given up by the mothers after they initially promised to do them. The data also shows that over 59 messages, only 17 were found easy to do, however 39 challenges were found 'just fine' to do. Over 59 challenges, 47 messages were found useful by mothers.
Outcome
In this study, we tested the feasibility of a recommender system tailoring health messages delivered by an off-the-shelf messaging app as Telegram, and we consider the results show that the system achieved to rise some motivation from mothers to give a healthy diet to their children.
March 2018, the team delivered a poster presentation at Qatar Foundation Annual Research Conference.